Applications in Drug Discovery and Development
Several phase in drug discovery and development can be supported by metabonomics. In a very early phase, metabonomics can help in selecting drug candidates by monitoring toxicity. On the one hand the protocols of candidate selection studies are very simple, rendering metabonoic analyses very challenging in terms of number of samples. On the other hand rather high doses can result in clear metabonomic effects, which can be used for outruling candidates. In later clinical phases, metabonomics can help in an advanced profiling of a drug candidate. Thereby metabonomics can be added to acute and chronic GLP studies. As these studies are highly controled and as typically several sampling time points are available, detailed mechanistic investations can be performed. These studies also allow looking for bridging biomarker and effects, which can be monitored in clinical phase I studies later on. In clinical studies metabonomics can be used for several purposes, such as monitoring safety biomarkers, for monitoring the efficacy of therapy, for diagnosis and for stratification of patients.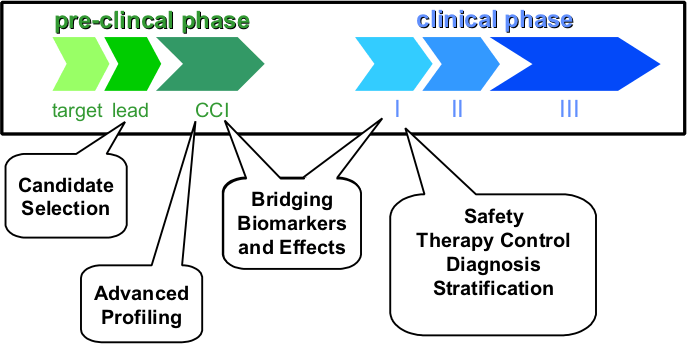 Phases in drug discovery and development, which are currently supported by metabonomic studies.
In the following sections, examples from a candidate selection study, from advanced profiling studies and from a marketing study (advanced profiling together with a competitor´s component) are shown.